Trash Guard
Trash Guard, Inc. is a simple straightforward product to meet the challenges of the world's non-point stormwater pollution problems. Trash Guard meets the needs for those governmental entities who are of increasingly burdened by the federal government's mandate to manage stormwater.
A stormwater discharge is defined by the US Environmental Protection Agency (EPA) as rainwater or snowmelt runoff. These fresh waters become polluted as they flow over modern man-made structures like roads, parking lots, industrial sites, roofs, suburban lawns, etc. An abundance of suspended pollutants can easily ride piggyback on sediment particles and leaves in such water flows. Types of pollutants include road salts, calcium chloride, motor oils and fluids, rubber, lawn fertilizers and chemicals, E. coli from house pet feces, and many others.
Trash Guard is a patented catch-basin trash screen in three filtration screen sizes for existing or new catch-basins that utilize discharge pipes of 24 inches or less in diameter. Each size screen can be adjusted at installation to accommodate low flow stormwater events of 10 cfs or more. Trash Guard offers a product screen sizing calculations computerized program that can assist engineers in selecting the correct screen size for a specific site. Trash Guard is available in 3 sizes.
23"TG – 23" wide X 24" high X 6.5 deep designed for outlet pipes

≤

15" outlet pipe
28"TG – 28" wide X 30" high X 6.5" deep for outlet pipes

≤

18" outlet pipe
34"TG – 34" wide X 36 high X 6.5" deep for outlet pipes

≤

24" outlet pipe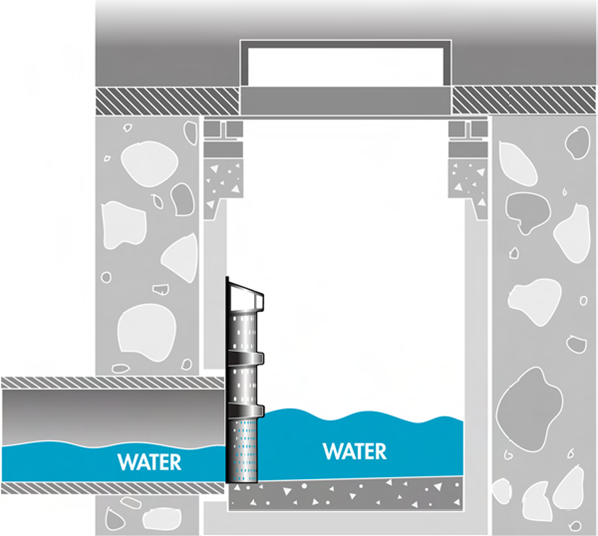 Trash Guard installed
in a catch basin